Beginning April 18, the COVID testing site currently located at the Gunnison County Fairgrounds will return to its original location in the hospital parking lot on the campus of Gunnison Valley Health. COVIDCheck Colorado, who manage site operations, do not anticipate a disruption of service or change in availability due to the move.
Testing is typically available:
Monday to Thursday: 9 a.m. to 4 p.m.
Friday: 8 to 11 a.m.
Updates on Delays and Closures
You can schedule a time for testing online or by calling 720-419-1087 or emailing support@covidcheckcolorado.org.
Please note:
If it is below zero degrees Fahrenheit, testing start times will be delayed.
Testing is now done through a saliva sample.

No eating or drinking (including gum, water and coffee) for 30 minutes prior to a saliva test.
Nasal swabbing is available for those over two who cannot spit.

Testing for all individuals under two years of age needs to be done through a primary care provider.
Please see the map below for traffic flow accessing the testing site.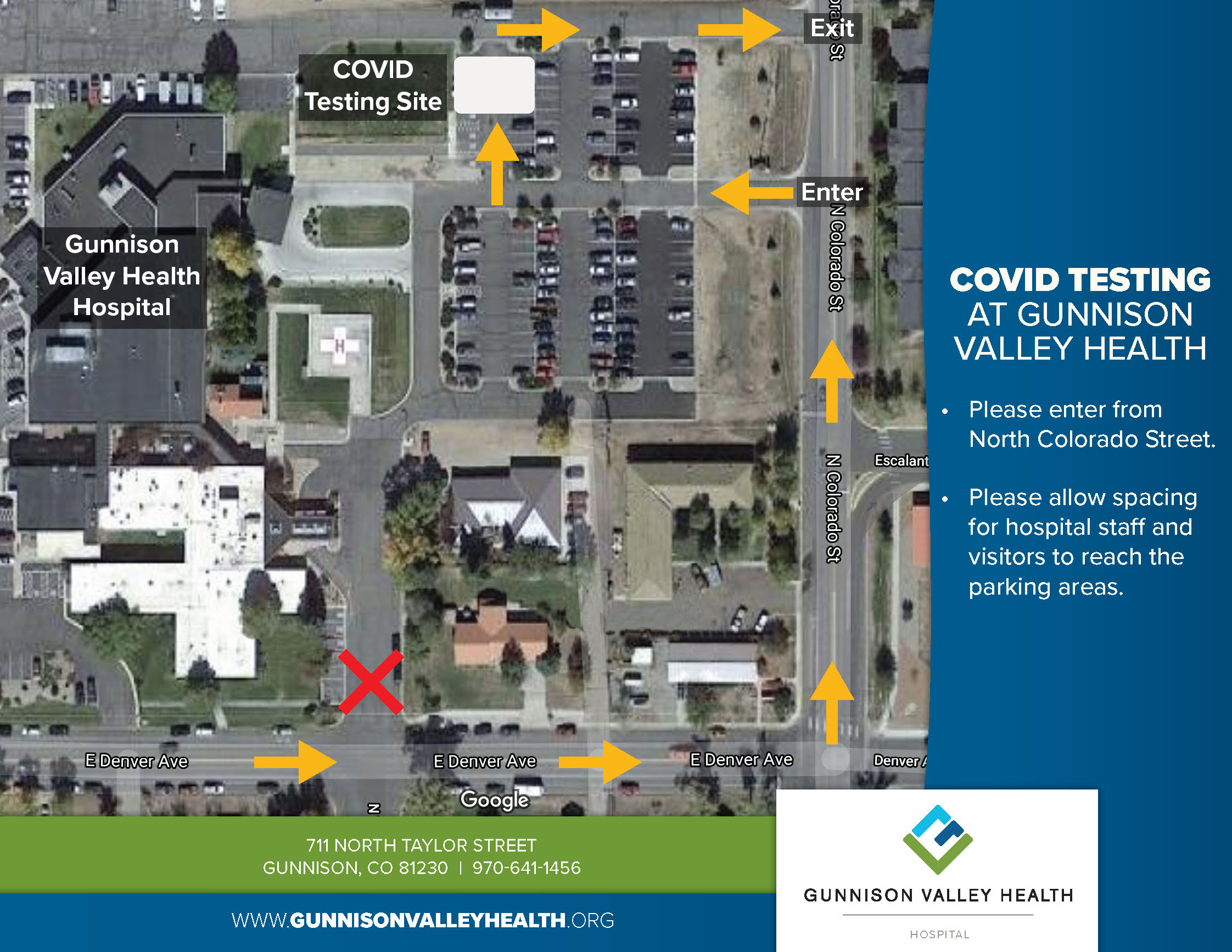 If you have no symptoms of COVID-19 and need a PCR test for work or travel a self-swab test is available at Gunnison Valley Health for $150. This walk-in testing option is available Monday to Friday from 7:30 to 11:00 a.m. at the main entrance of the hospital.
Learn more about the self-swab test.
Need COVID-19 Vaccine information? Click here
COVID-19 Antibody Testing
Gunnison Valley Health offers the Abbott SARS-CoV-2 IgG test which is designed to detect antibodies in a blood sample that would indicate a person may have a current or prior COVID-19 infection. This test requires a doctor's order and is run through their insurance. With the doctor's order, this test is available at the north entrance from 7:30 A.M. to 6 P.M Monday through Friday.
Call us at (970) 641-1456 if you have further questions.
Antibody test fast facts
Doctor's order required.
$0 up-front cost. Covered by some insurance.
Available 7:30 A.M. to 6 P.M, Monday through Friday.
Need more information? We're here to help.