Thanks to generous support from COVIDCheck Colorado, we have expanded our hours.
Beginning Monday, January 17 testing hours will be:
Monday to Thursday: 9 a.m. to 4 p.m.
Friday: 8 to 11 a.m.
As of 1/6/22 the community testing site will temporarily move to the parking lot at the corner of S. 14th Street and Evans Street in Gunnison near the fairgrounds.
The days and hours for the testing site stay the same. The location is just changing.
You can schedule a time for testing online or by calling 720-419-1087 or emailing support@covidcheckcolorado.org.
Walk-ins for single individuals are not accepted before 11 a.m. If you need to have multiple people tested, please make an appointment.
Please see the map below for traffic flow accessing the testing site.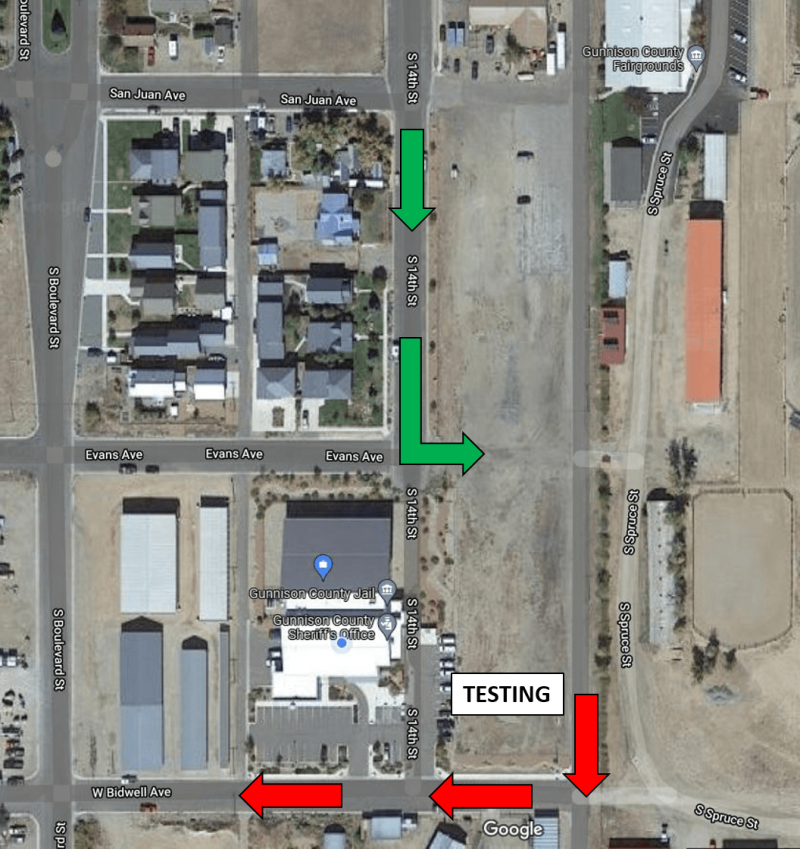 Important Information:
Testing is a nasal swab PCR test
Results are guaranteed in 72 hours or less
When you arrive for testing please remain in your car, wear a mask and do not bring your dogs
Steps to Follow While Waiting for Results
The precautions you take when waiting for the results depends on why you are getting tested. To help, we created a post-test information sheet to help you navigate.
Download the Post-Test Information Sheet
For individuals requiring testing for surgeries: Contact the Gunnison Valley Health Admissions department to schedule testing. You will need to know ahead of time if a rapid NAAT test or a send-out PCR test is required by your surgeon. When you have that information, please call 970-642-4766. Also, understand that this is a screening test, which will be billed through your insurance, just like any other pre-surgical lab work.
You will need to obtain an order from your physician that includes the following information:
The order must indicate the type of COVID test required. The two testing options are a rapid test (same day results) or a send-off PCR test (these take about 3 days for results).

If your provider requires a PCR test, please schedule accordingly.
If your provider sends an order that does not specify the type of test needed, you will be responsible for contacting them to update the order.

The orders should be faxed to the Gunnison Valley Health Admissions Department at 970-641-7211.
The order must include a good fax number for the provider in order for us to fax the results.
If you have no symptoms of COVID-19 and need a PCR test for work or travel a self-swab test is available at Gunnison Valley Health for $150. This walk-in testing option is available Monday to Friday from 7:30 to 11:00 a.m. at the main entrance of the hospital.
Learn more about the self-swab test.
Need COVID-19 Vaccine information? Click here
COVID-19 Antibody Testing
Gunnison Valley Health offers the Abbott SARS-CoV-2 IgG test which is designed to detect antibodies in a blood sample that would indicate a person may have a current or prior COVID-19 infection. This test requires a doctor's order and is run through their insurance. With the doctor's order, this test is available at the north entrance from 7:30 A.M. to 6 P.M Monday through Friday.
Call us at (970) 641-1456 if you have further questions.
Antibody test fast facts
Doctor's order required.
$0 up-front cost. Covered by some insurance.
Available 7:30 A.M. to 6 P.M, Monday through Friday.
Need more information? We're here to help.