Event Details
Bereavement Support Group
Categories:

Community Events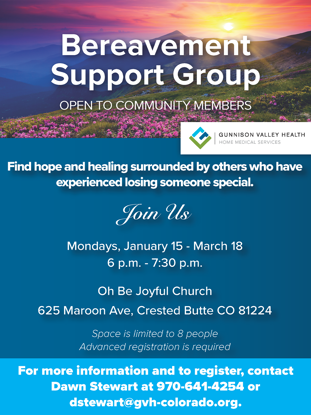 About This Event
Details:
Find hope and healing surrounded by others who have experienced losing someone special. 
Join Us  Mondays, January 16 - March 20, 6 - 7:30pm at the Oh Be Joyful Church. Located at 625 Maroon Avenue, Crested Butte, CO 81224.
Space is limited to 8 people, and advanced registration is required.
For more information and to register, contact Dawn Stewart at 970-641-4254 or dstewart@gvh-colorado.org.