Event Details
To Not Retreat: Working with Complex Grief in Child Loss
Categories:

Community Events, Event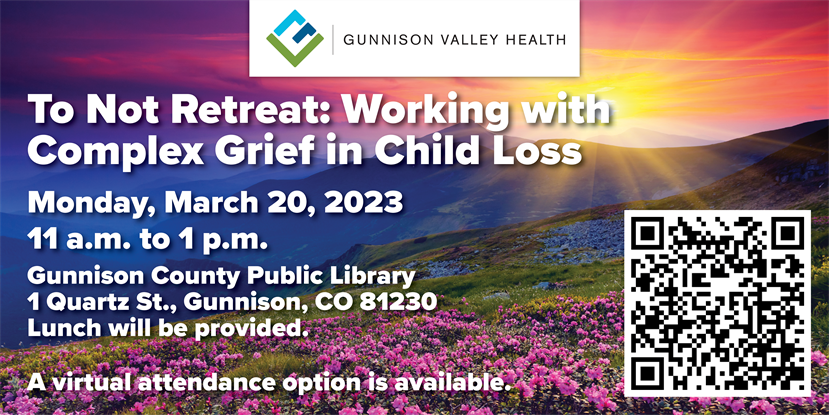 About This Event
Details:
Online meeting access:
Microsoft Teams meeting
Join on your computer, mobile app or room device
Click here to join the meeting
Meeting ID: 292 062 064 036
Passcode: Cc8T8h
Download Teams | Join on the web
Or call in (audio only)
+1 469-217-7806,,898068968#   United States, Dallas
Phone Conference ID: 898 068 968#
Find a local number | Reset PIN
Gunnison Valley Health will host a free pediatric loss workshop for Western Slope providers.  The workshop, To Not Retreat: Working with Complex Grief in Child Loss, is schedule from 11 a.m. to 1 p.m. at the Gunnison County Public Library. A virtual attendance option is also available.
We all know that we have a responsibility to handle tragedies like the loss of a child with tenderness and grace. These are not easy conversations that anyone wants to have with a family. Through this open conversation, we will gain insights to help us better understand:
What is the most mindful approach when dealing with this situation?
How can we support those who are grieving?
How do we talk about pediatric loss as a community?
What are our professional responsibilities?
The workshop will be facilitated by Michael McAndrew, MA, LPCC from the Angel Eyes Foundation. Michael is a Lacanian psychoanalyst practicing in Denver, Colorado. Michael splits his time between private practice and work for Angel Eyes Foundation, a nonprofit providing pro bono psychoanalysis for women who have recently and suddenly lost a child, infant or fetus.