Proven Therapy to Help People Living with Parkinson's Disease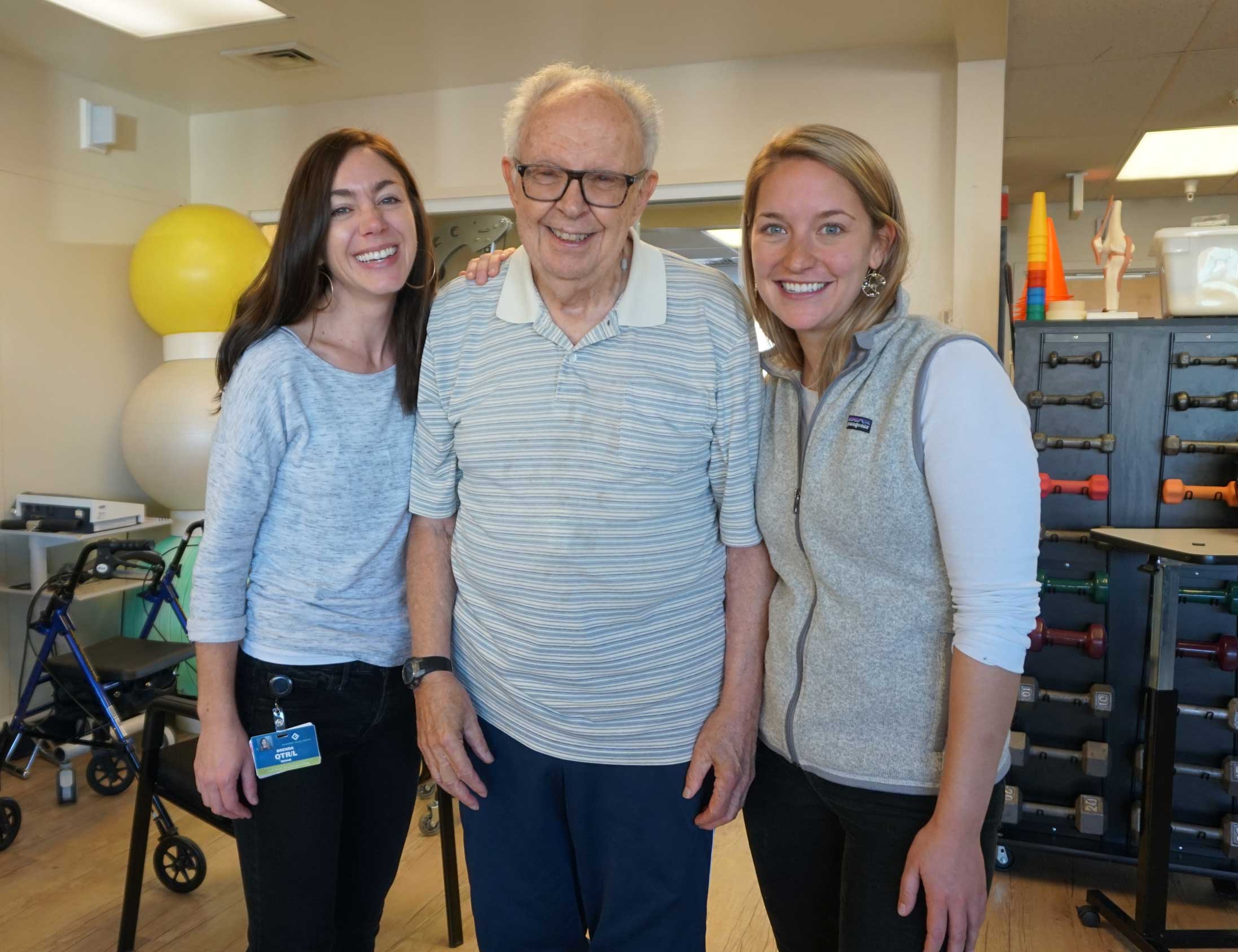 Pictured above from left to right is Brenda Lee, Bernie Goldberg and Hana Larson.
People living with Parkinson's disease can now receive treatment locally with both LSVT BIG and LOUD programs being offered at Gunnison Valley Health.
After completing four weeks of individualized, one-on-one treatment with Gunnison Valley Health's certified therapists, Bernie Goldberg knows first-hand the benefits of the LSVT BIG program.
Diagnosed with Parkinson's disease ten years ago, Bernie's nervous system gradually was affected causing stiffness, slowing of movement and loss of fine motor skills. Since completing Gunnison Valley Health's LSVT BIG program, which is a combination of both physical and occupational therapy, he is delighted with the results.
"After a month I saw a huge difference," said Bernie. "I could pick things up off the floor which I couldn't do a few weeks ago," he said.
Gunnison Valley Health's Occupational Therapist Brenda Lee said LSVT BIG is an intensive and effective program created to help people with Parkinson's disease and other neurological conditions address day-to-day difficulties associated with the condition.
"People living with Parkinson's disease often move differently as the disease progresses," said Ms. Lee. "Generally, we see their movements become smaller and slower, making it harder to engage in normal daily activities like walking, grocery shopping, cooking meals or getting dressed, and can even keep people from doing the things they love, whether it's knitting, skiing, hiking or swimming," she said.
The LSVT programs have been developed and scientifically researched over the past 25 years with funding received from the National Institutes of Health. LSVT BIG is a four-week program consisting of four individual sessions a week and daily homework practice exercises. The treatments can be shared between occupational and physical therapy and it is delivered by certified therapists, Hana Larson, PT DPT and Brenda Lee, MOTR/L. The program is often offered in conjunction with LSVT LOUD, also delivered at Gunnison Valley Health by Jen Moore, MA CCC-SLP, which targets difficulties with voice and speech.
For the best results, it is recommended to begin the program before you have noticed significant problems with balance, mobility or posture, although LSVT BIG can benefit people at any stage of Parkinson's disease.
When asked what the one best thing about the program is, Bernie beams and says, "when my friends say you're looking really good, Bernie."
For more information on LSVT BIG or LOUD contact Gunnison Valley Health's Rehab and Athletic Medicine department at (970) 641-7248 or visit www.gunnisonvalleyhealth.org/rehab.