Gunnison Valley Health's New Disinfectant Machine Helps Those at Risk of COVID-19
Category: COVID
Posted On: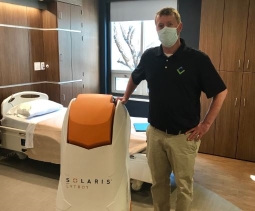 Gunnison Valley Health's new Lytbot disinfectant machine was put to good use at the Mountain View Apartments in Gunnison over the weekend. A resident who lived in the county owned independent living facility for low income seniors and people with disabilities, had been screened for COVID-19.
Gunnison Valley Health's Director of Environmental Services, Jake Parr said although the resident tested negative, the County was concerned about the potential spread of the virus in the facility and did not want to use harsh chemical treatments that could irritate the respiratory systems of the elderly residents.
"The County had heard we just received our new Lytbot which uses pulsed UV light to rapidly and reliably eliminate bacteria on surfaces," Parr said. "We concentrated on using the Lytbot in all common areas to eradicate any bacteria that may be present."
Parr confirmed that the main purpose of the Lytbot is to reduce the exposure of harmful pathogens for our staff and patients at the hospital.
"Rather than taking two hours for a room to be terminally cleaned, with the help of the Lytbot, a room can be cleared of all infectious surface pathogens in 15 minutes," he said.