Access your health records on your iPhone
The Health app makes it easy for you to access and securely store your health records with Gunnison Valley Health and other participating facilities. To access your medical data at Gunnison Valley Health hospital, use your Patient Portal login and follow the simple steps below.
Please note: At this stage, only data from the hospital can be downloaded into the Health app. We are currently waiting for our clinic software partners (Family Medicine Clinic, WCU Health Campus and Surgical Services) to finish testing their software.
How to transfer your medical data into Health Records
Step 1 – Select the Health app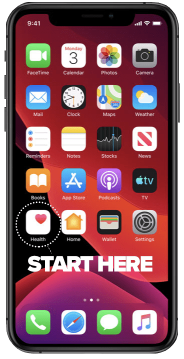 Step 2 – Select Health Records

Step 3 – Read about Health Records & Privacy, then Get Started

Step 4 – Search for Gunnison Valley Health and select

Step 5 – Enter in your patient portal username and password. If you do not know this, please email customerservice@gvh-colorado.org

Step 6 – Select approve to give Apple Health permission to access your records

Step 7 – Select Next to add Gunnison Valley Health as your account

Step 8 – Your health records that show in your hospital patient portal are now available on your iPhone. The next time you visit the Family Medicine Clinic, WCU Health Campus and Surgical Services, ask if their software partner is now compatible with iPhone.

Share your stories and photos for a chance to be featured by Gunnison Valley Health!