Epidural Steroid Injection
An epidural steroid injection (ESI) is a minimally invasive procedure that can help relieve neck, arm, back, and leg pain caused by inflamed spinal nerves due to spinal stenosis or disc herniation. Medicines are delivered to the epidural space, which is a fat-filled area between the bone and the protective sac of the spinal nerves. Pain relief may last for several days or even years. The goal is to reduce pain so that you may resume normal activities and a physical therapy program.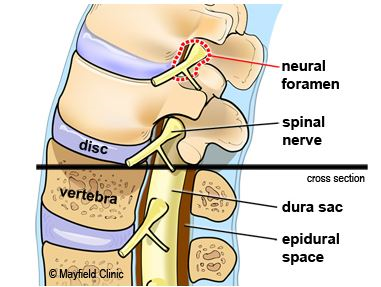 The photo above is a side view of the spine. The epidural space is a fat-filled area that lies between the vertebra and the dura sac, which surrounds and protects the spinal cord and nerve roots.
What can I expect?
At Gunnison Valley Health, the injection is administered radiologist or pain management specialists. A fluoroscopic x-ray is used to locate the correct vertebral level for needle guidance and a contrast dye is used to check the spread of the injected contents. Patients usually return home the same day.
What are the results?
Many patients experience some pain relief benefits from epidural steroid injections. For those who experience only mild pain relief, one to two more injections may be performed, usually in 1-4 week intervals, to achieve full effect. Duration of pain relief varies, lasting for weeks or years. Injections are done in conjunction with a physical therapy and/or home exercise program to strengthen the back muscles and prevent future pain episodes.
Leading edge technology backed by compassion and commitment.
At Gunnison Valley Health, we provide advanced imaging services right here in the Gunnison Valley. Our on-site radiologists and certified technologists offer expertise, experience, and diagnostic excellence to the residents and guests of our area.
For more information or to schedule an appointment, contact Gunnison Valley Health's Diagnostic Imaging Department at (970) 641-7253.
Share your stories and photos for a chance to be featured by Gunnison Valley Health!