Care Management at the Family Medicine Clinic
Gunnison Valley Health is excited to partner with the Western Healthcare Alliance to bring a care management nurse to the Family Medicine Clinic!
Who Qualifies?
The care management program at the Gunnison Valley Health Family Medicine Clinic is for patients on Medicare who have two or more chronic conditions.
To be enrolled in the care management program, you must see a provider at the Gunnison Family Medicine Clinic as your primary care provider, and you must have been seen by a physician within the last year. To enroll simply notify a staff member that you are interested in care management. You can also call the Family Medicine Clinic at 970-642-8413.
Why Should I Choose to Participate?
The care management position is a registered nurse. They reach out to each patient at least once a month. This staff member allows these more at-risk patients to get more regular health care – rather than them just seeing a physician every couple months. They work with the patient to assist with follow up care, medications, and ensures patients are clearly understand their care path. If any of his patients need to be admitted to the hospital, the staff member will work with the patient to help ease the transition so that the patient can remain out of the hospital once discharged.
Meet Our Care Management Staff Member: Amber Christie, RN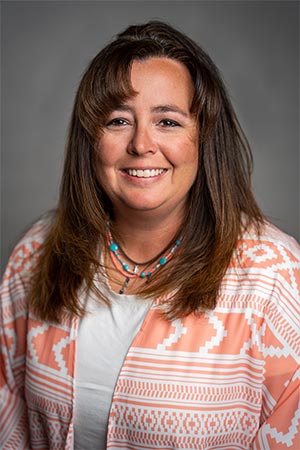 Amber Christie, RN, was born and raised in Montrose, Colorado and then attended the University of Wyoming where she graduated with her Bachelor of Science in Nursing. She returned to the Western Slope, making her home in Delta, and continuing her career at Montrose Memorial Hospital.
Amber has worked in the healthcare Industry for over 20 years. Starting at Montrose Memorial Hospital working as a CNA, Ward Clerk, and Telemetry Tech on holiday and summer breaks until graduating with her RN in 2003. She continued at Montrose Memorial Hospital as an RN on the Medical Surgical Floor, in 2004 transitioned to ICU where she worked until 2012. She then joined the team at Volunteers of America Home Health of Western Colorado as a Case Manager and Wound Care Certified Nurse for the Delta County area until joining the Care Coordination Team.
Amber has a passion for working with rural patients and families advocating and helping them achieve their goals in their healthcare journey. Working in a rural health care setting often requires creative thinking and advocating for these goals to be achieved.
Amber has been continually active in the Delta County Youth Sports programs coaching numerous teams. Her love and passion for Agriculture is present in her continued work with the youth involved in Montrose and Delta County 4-H programs and most recently her role in leadership for the Delta County Bred and Fed Sheep program.
Share your stories and photos for a chance to be featured by Gunnison Valley Health!
Gunnison is Lucky

Family Medicine Clinic

Gunnison is lucky to have such good health care

-Submitted by Anonymous

One of the Best Providers in the Valley

Family Medicine Clinic

I recommend Erica Eaton to all my friends and family. She is extremely thorough, empathetic, and patient with the care that she ...

-Submitted by Anonymous

Treated us an Individuals

Family Medicine Clinic

Dr Hill was thorough and respectful of our time as well as hers. She treated us as individuals.

-Submitted by Anonymous

Attentive Staff

Family Medicine Clinic

I adore my doctor and his office staff. Very attentive.

-Submitted by Anonymous

Nowhere Else I would Rather Go

Family Medicine Clinic

There is nowhere else I would rather go for my primary care.

-Submitted by Anonymous

Best Experience with a Doctor in a Long Time

Family Medicine Clinic

This was honestly the best experience I've had with a doctor in a very long time. Bonnie Strickland was extremely attentive, ...

-Submitted by Anonymous