Level IV Trauma Center with Expanded Scope
Gunnison Valley Health is a level IV trauma center with an expanded scope designation. We have the ability to provide advanced trauma life support (ATLS) to stabilize a patient prior to transporting to a higher-level trauma center.
Here for You in Every Situation
Gunnison Valley Health is unique in that we have general and orthopedic surgeons available 24/7 which allows us to function with an expanded scope of care in addition to our level IV designation. This allows us to keep certain surgical and non-surgical patients to be monitored and treated in our Medical Surgical Unit. If the extent of injuries is above the capacity of GVH, we will transport patients to the appropriate facility from the emergency department.
It is extremely important to Gunnison Valley Health to keep our locals and visitors in the valley whenever possible. Transferring patients out of the valley can cause logistical issues, especially for visitors who may have belongings still in Gunnison or Crested Butte. Our providers and nurses work hard to maintain their education and skills to ensure that we keep our expanded scope designation to help keep appropriate patients local.
100% of our emergency nurses have completed their Trauma Nurse Core Course.
All emergency department physicians have completed their ATLS certification.
86% of emergency department physicians are board certified in Emergency Medicine.
Community Education Opportunities
Gunnison Valley Health works hard to keep our community healthy through educational opportunities. We want to teach you how to save a life! Bystander interventions lead to saved lives.
Courses Offered Through Gunnison Valley Health
American Heart Association Courses
Hands Only CPR & Stop the Bleed
Trauma Talk
Gunnison Valley Health is excited to partner with the Western Slope Trauma Collaborative to bring you a monthly Trauma Talk. Follow Gunnison Valley Health on Facebook and Instagram to stay up to date on our monthly topics. Feel free to download and distribute these resources!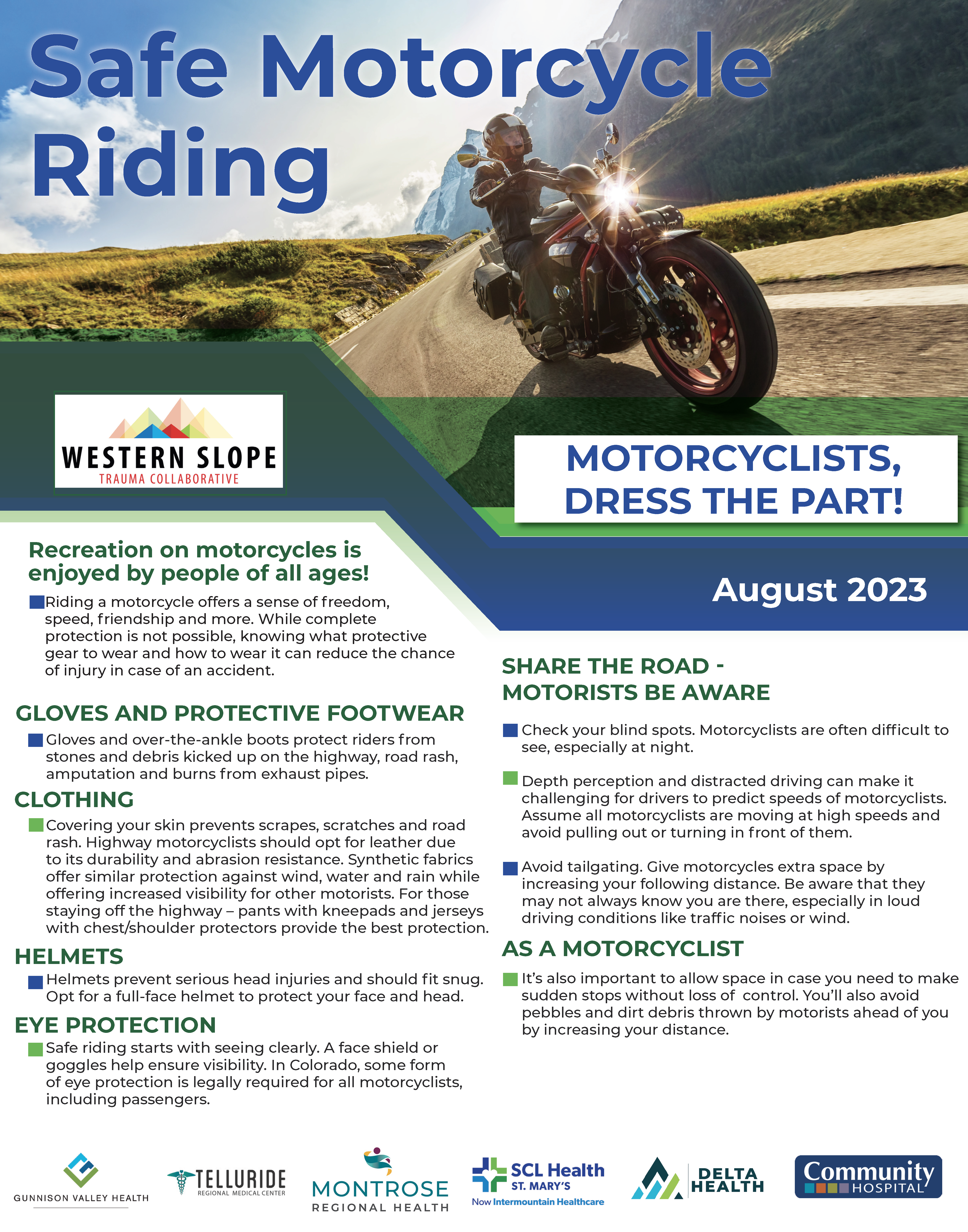 Share your stories and photos for a chance to be featured by Gunnison Valley Health!
The Best Care I Have Received

Emergency Department

"I was visiting the area, staying overnight at Mt. Crested Butte. I became very ill during the night and had to drive to GVH at ...

-Submitted by Anonymous Visitor

Phenomenal Healthcare Professionals

Emergency Department, Inpatient Services

"Please make sure all of your dedicated healthcare professionals who were instrumental in my treatment and recovery know that ...

-Submitted by Anonymous Visitor

Excellent Experience in a Bad Situation

Emergency Department

"Overall, I had an excellent experience in a bad situation - broken collarbone and three ribs. Everything the doctors, nurses ...

-Submitted by Anonymous

The Best Emergency Room Experience

Emergency Department

"I couldn't ask for better care. The team who took care of me were extremely attentive and thorough. They did a great job of ...

-Submitted by Anonymous

Alive Today Because of GVH

Emergency Department, Paramedics

"I am here today because of the care I received at GVH."

-Submitted by Jim

Emergency Department is Excellent

Emergency Department

Gunnison Valley is very fortunate to have this hospital & emergency facility. The total staff is very professional & amazing & ...

-Submitted by Anonymous